CST  lighting specializes in creating high-quality LED underwater lighting solutions of differnt sizes and styles. We use the latest technology and the finest materials to ensure that our products are reliable and perform to the highest standards. Our underwater lights are incredibly bright and have a wide reach and beam angle, so they can illuminate deep into the water, creating a breathtaking halo effect. We offer a wide range of high-intensity LED underwater lights for different purposes, including boats, docks, casting, diving, gigs, and swimming pools. Our marine lights come with multiple colors to meet different application needs. They are the perfect choice for fountains, theme parks, exhibitions, commercial, and artistic lighting.
Featured Underwater Lighting Fixtures
01 LED Submersible Underwater Light
The 01 series underwater light is constructed from high-quality stainless steel and is equipped with stainless steel screws for excellent durability and enhanced waterproof performance. The thick tempered glass cover provides impressive hardness and high transparency, ensuring the light is safe, reliable, and unbreakable. The 304 stainless steel frame is anodized and sandblasted to resist rust, fading, and corrosion while also increasing crack resistance. The high-quality rubber gasket and stainless steel screws enable the light to achieve an IP68 waterproof rating, providing the best waterproof effect. This underwater LED light is the perfect combination of reliability and aesthetics and can be used in a variety of settings, including swimming pools, ponds, square park fountains, and hotel fountains, etc.
04 Series Underwater Light
The 04 series underwater light boasts an IP68 rating and an impressive luminous efficacy of 120 (lm/w). It is available in power options ranging from 3W to 36W, with a color rendering index above 80, voltage range of AC/DC12-24 (V), and a color temperature of 3000-6500 (K). Its multi-color options make it suitable for a variety of settings, while its stainless steel housing ensures impressive durability.This underwater LED light shines at a 60/90/120 degree angle and emits a beautiful green glow that is sure to enhance any space. It is suitable for use in swimming pools, park swimming pools, square fountains, artificial waterfalls, aquariums, and other decorative lighting settings.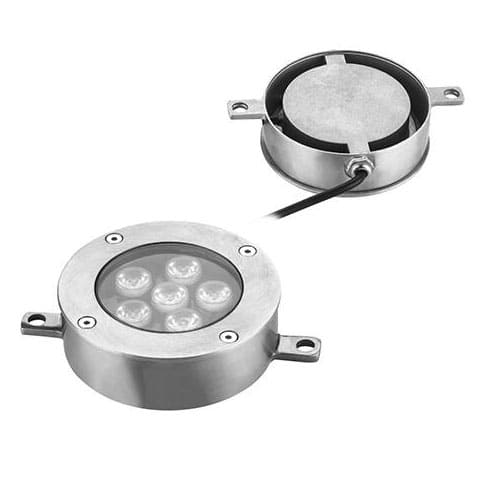 08 Series Underwater Light
The 08 series LED underwater light is designed with a high-quality sealed silica gel interface and a thickened optical lens, providing superior waterproofing and a long lifespan. Additionally, the thickened stainless steel lamp body provides anti-strike capability, while the surface cover made of pure aluminum features anodized frosted processing to protect it from rust and corrosion. This underwater LED light is dimmable and controllable via DMX 512, DALI, or 1-10 V dimmer, making it a versatile lighting option suitable for use in underwater settings, fountains, ponds, water gardens, and more.
10 Series LED Underwater Light
The 10 series underwater light is designed to enhance the beauty of your fountain or pond with its visually appealing light and color. This waterproof spotlight is professionally sealed to ensure complete submersion and protection from water damage. Its bright and long-lasting LEDs offer high brightness while consuming less power. Our adjustable brackets enable you to direct the light at various angles, accentuating key features in your water feature. Whether you want to highlight statues or illuminate cascading streams, our spotlights provide the necessary illumination. The easy-to-install design allows for both vertical and horizontal installation, making it suitable for outdoor use. With an IP68 rating, this submersible LED spotlight is highly waterproof and can be used safely even in water up to 50 cm deep. Additionally, this spotlight generates very little heat, making it an energy-efficient, environmentally friendly option.