LED Panel Light Manufacturer
CST is a leading LED panel light manufacturer with over 10 years of experience in the industry. We offer a wide range of LED panel lights for different applications, such as office, hotel, hospital, school, supermarket, etc. Our LED panel lights are energy-efficient, eco-friendly, long-lasting, and easy to install. They can provide uniform and bright illumination for any space. Whether you need standard or customized panel lights, we have the perfect lighting solutions to fit your needs and exceed your expectations. We are ready to serve you with our best products and services.
One-stop LED Panel Light Solutions for your Business
Super Slim Recessed LED Panel Light
This series panel light have round shape and square shape for option. It is  an ultra-thin design which makes it ideal for areas with limited space for lighting fixtures. The light provides even and uniform illumination, widely used in commercial and residential lightings.
Super Slim Surface Panel Light
This series led panel ceiling lights are designed with surface mounted installation, it means you no need to open the hole when installation. The light panel has round and square shape with slim profile, making it easy to install in tight spaces. Also this flat panel led light is suitable for a wide range of applications such as offices, schools, hospitals, hotels, homes, and more.
Frameless LED Panel Light
Frameless light panel have no frame on the edge, that widens the light distribution area and reduces dark areas blocked by the frame. They are designed for easy installation and can be recessed into a variety of ceiling types.
Double Color RGB LED Panel Light
Double color panel lights, also known as dual-color panel lights, have some unique features that set them apart from other types of LED panel lights. It designed with two-color temperature settings, they can change colors between white warm white cool white and blue purple pink RGB according to your preference.
Custom LED Panel Light Solutions
4 Steps to Customize Your Panel Light
Want to Custom Your Panel Light?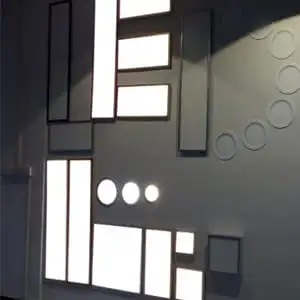 Sample Room
Production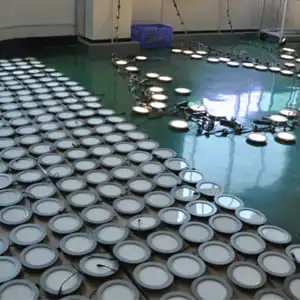 Aging Test
Raw Materials Warehouse
Semi-products Warehouse
Finished Products Warehouse
FAQ About LED Panel Light