CST's LED stadium lights provide a powerful and energy-efficient solution for illuminating large indoor and outdoor stadiums or arenas. Our range of LED stadium floodlights spans from 100 to 3,000 watts and from 15,000 to 450,000 lumens, ensuring that you can select the ideal lighting solution for your specific requirements. By using our LED sports flood lighting, you could potentially reduce energy consumption by up to 85% compared to traditional stadium lighting. Additionally, the long lifespan of over 80,000 hours means that fewer light replacements are needed. Our stadium LED lighting product includes stadium lights, LED stadium light replacements, and LED sports field lighting retrofits to convert traditional stadium lighting into more energy-efficient LED outdoor arena lighting. We also offer free commercial lighting audits to guide you in selecting the best outdoor stadium lights for sale to meet your needs.
01 series LED stadium lights are a dependable and energy-efficient solution for illuminating large indoor and outdoor areas, such as basketball and football fields, gardens, parking lots, hotels, and front yards. They have a modular structure that is easy to assemble and disassemble, which makes installation and maintenance hassle-free. This  stadium lights are made of high-quality aluminum die-casting, which makes them durable and able to withstand harsh weather conditions. It have a long lifespan of over 50,000 hours and come with a 5-year guarantee, making them a cost-effective and sustainable solution for your lighting needs. The flexible lens angle 10°/25°/60°/120×90° provides options for lighting control, and the power range from 400W to 1600W, to meet various lighting requirements. These LED stadium lights are suitable for widespread applications in stadiums, sports fields, squares, parks, towers, and other outdoor high-mast lighting.
02 series stadium lights are designed to use Bridgelux 5050 LED chips that are highly efficient, with a capacity of up to 140-160lm/w and a lifespan of over 100,000 hours. The Meanwell driver and high-quality aluminum die-casting housing make the lights durable, corrosion-resistant, and perfect for outdoor use. Additionally, this stadium lights come with an adjustable angle bracket for convenient installation and a modular structure for easy assembly and disassembly.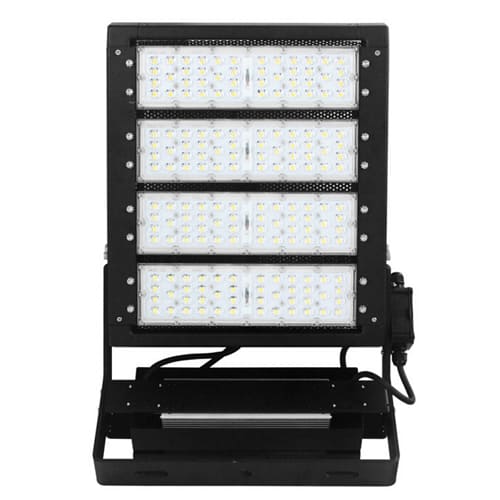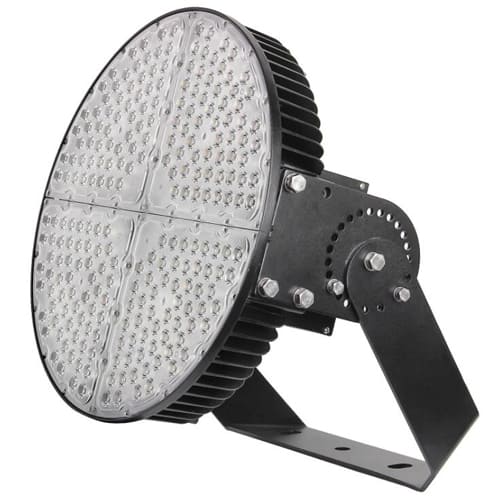 03 Series Round Shape Stadium Light
The round ultra-thin LED sports light has a beautiful appearance and different beam angles can be selected based on the size of the lighting area. The circular ultra-thin series of anti-glare baffles can control excess light upwards, making better use of the light in the required area and reducing light loss and pollution. With a service life of over 50,000 hours, there is no need for preheating time when turned on, ensuring worry-free use for customers. The LED sports lights come in various wattages and professional beam angles, ranging from 480W to 1200W, and are suitable for use in various sports venues, including stadiums, sports fields, football fields, basketball courts, tennis courts, and arenas.This round stadium lights are highly efficient and can perfectly replace 1000W-3000W metal halide lamps and high pressure sodium lamps.