CST Lighting is a high-quality outdoor wall washer lights manufacturer and supplier. Our wall washer provide powerful, uniform indirect lighting that not only illuminates any space, but also enhances its visual interest and draws attention to specific or large areas. Available in RGB, RGBW color, and monochrome options, our outdoor washer light offer a range of customizable lighting solutions to meet your specific needs.
In addition, our DMX512 Controllable RGB LED Wall Washer is the perfect choice for outdoor architectural contour lighting or bridge lighting projects. With expert craftsmanship and attention to detail, our Wall Washers are built to withstand the harshest weather conditions, ensuring they are built to last. Contact us to learn more about products and services.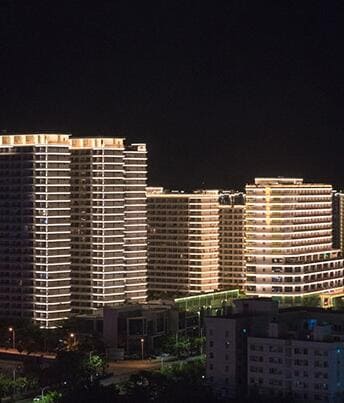 LED Linear Wall Washer - Facade Lighting
At CST Lighting, we understand the importance of outdoor lighting in enhancing the beauty and functionality of a space. That's why we offer a wide range of LED outdoor wall washers that are not only durable but also cost effective. Our wall washers come in a wide range of sizes and high light outputs, providing optimal two-sided light emission and a wide rotationally symmetrical beam distribution. This makes them ideal for efficiently illuminating walls, columns, and architectural details.
1. High efficiency and energy saving: Our wall washer adopts market-leading LED chip brands which can save energy by 70%-80% compared with traditional light sources.
2. Easy Installation: comes with plug cord and plug-and-play design, making it effortless to install. The 180-degree mounting brackets on the back and sides also make it easy to adjust as needed.
3. Waterproof and durable: Our washer light is made of durable die-cast aluminum housing with IP65 waterproof rating, suitable for use in various outdoor places such as gardens, walls, driveways and billboards.
4. Wide Power: Wattage ranges from 18W to 100W with different size.
Different LED Wall Washer Lights Style